# Command-line Snippet Manager
U kunt de QOwnNotes Command-line Snippet Manager (opens new window) gebruiken om opdrachtfragmenten uit te voeren die zijn opgeslagen in notities in QOwnNotes vanaf de opdrachtregel.

U kunt notities met een speciale tag gebruiken om command snippets op te slaan, die u uit kunt voeren vanuit de command-line snippet manager.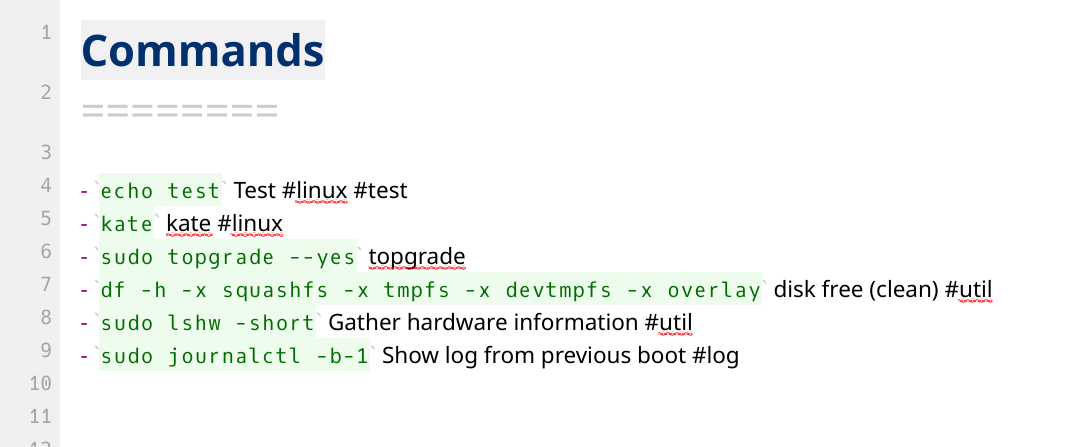 # Installatie
Ga naar de nieuwste release-pagina (opens new window) en download de versie die je nodig hebt.
TIP
Als je jq (opens new window) hebt geïnstalleerd, kun je dit fragment ook gebruiken om bijvoorbeeld de nieuwste Linux AMD64 AppImage te downloaden en te installeren naar /usr/local/bin/qc:
curl

 https://api.github.com/repos/qownnotes/qc/releases/latest 

|

 

\


jq 

'.assets[] | select(.browser_download_url | endswith("_linux_amd64.tar.gz")) | .browser_download_url'

 

|

 

\




xargs

 

curl

 -Lo /tmp/qc.tar.gz 

&&

 

\




tar

 xfz /tmp/qc.tar.gz -C /tmp 

&&

 

\




rm

 /tmp/qc.tar.gz 

&&

 

\




sudo

 

mv

 /tmp/qc /usr/local/bin/qc 

&&

 

\


/usr/local/bin/qc --version

# Afhankelijkheden
fzf (opens new window) (fuzzy zoeken) of peco (opens new window) (ouder, maar waarschijnlijker standaard geïnstalleerd) moeten worden geïnstalleerd om naar opdrachten op de opdrachtregel te zoeken.
TIP
Standaard wordt fzf gebruikt om te zoeken, maar u kunt peco gebruiken door dit in te stellen met qc configure.
# Opstelling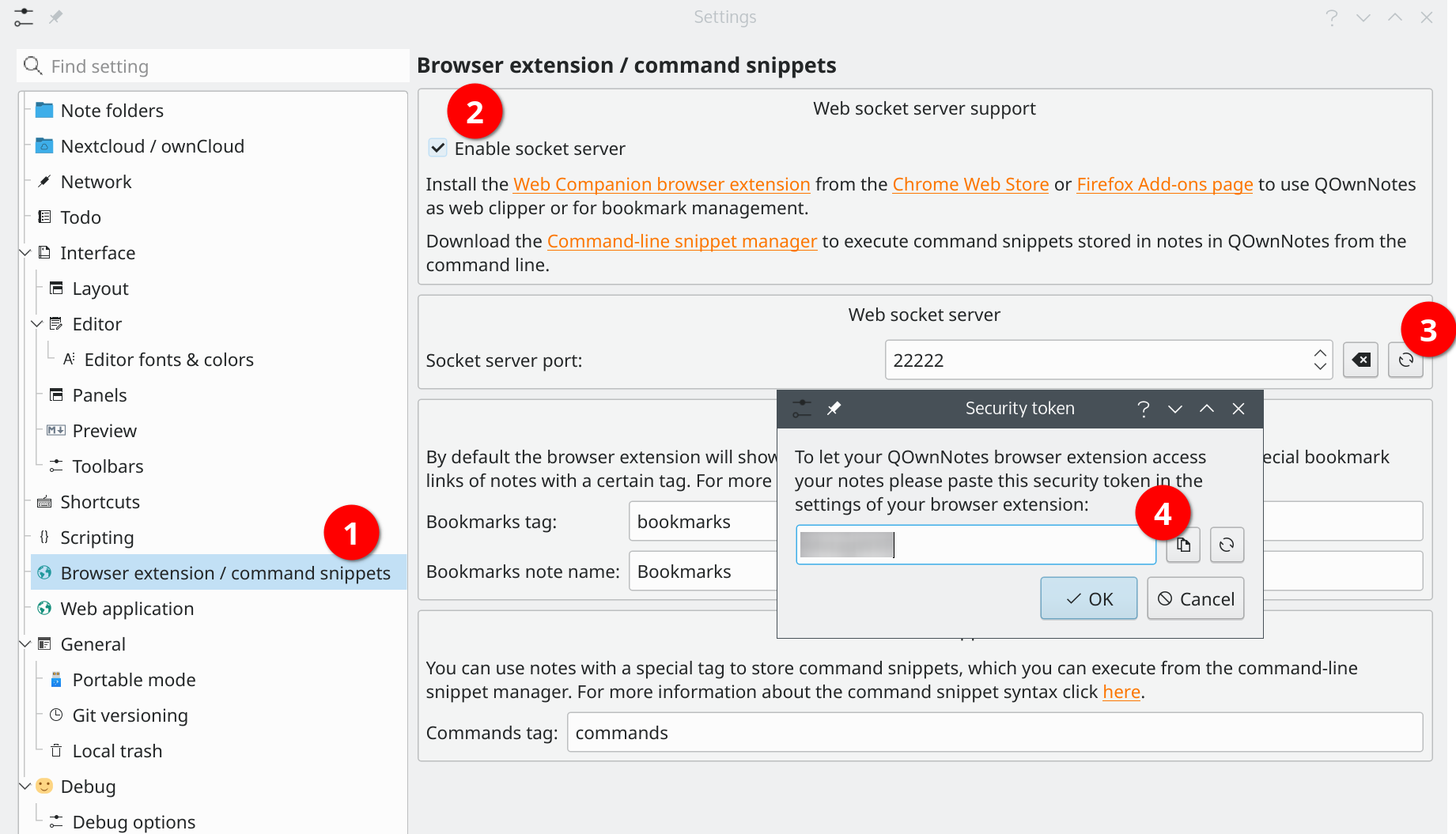 Voordat u de snippetmanager gebruikt, moet u de Websocketserver (2) inschakelen in de instellingen voor Browserextensie / opdrachtfragmenten (1) in QOwnNotes.
Dan moet je het security token (3) laten zien en kopiëren (4).
Open nu het configuratiebestand van de snippetmanager met:
# Configureer de snippetmanager


qc configureren

En plaats het security token in het token attribuut:
[

QOwnNotes

]




token

 

=

 

"yourtokenhere"



TIP
In de QOwnNotes-instellingen kunt u ook instellen welke notitietag moet worden gebruikt om naar opdrachten in notities te zoeken. Standaard wordt de tag opdrachten gebruikt.
# Syntaxis van opdrachtfragmenten
U kunt ongeordende lijsten met in-line codeblokken gebruiken om opdrachtfragmenten op te slaan. Alle notities met de tag opdrachten worden doorzocht op opdrachtfragmenten.
Als je een cmd: toevoegt voor het in-line codeblok, zal het commando ook gevonden worden in de huidige notitie ongeacht notitietags.
-

 

`echo I am a command`

 I am a description #tag1 #tag2 #tag3


*

 

`echo I am also a command`

 I am a description #tag3 #tag4 #tag5


-

 cmd: 

`echo I will be found in the current note`

 This command will be found in the current note regardless of note tags

bash or shell code blocks, preceded by a heading 2 or higher as a description, can also be used for command snippets. Tags worden ook ondersteund als ze tussen de kop en het codeblok staan.
## Doe dit met een "bash" codeblok

- this text will be ignored text
- but tags can be used: #tag1 #tag2

echo do this
echo do that


## Mach etwas anderes mit einem "sh" Codeblock

echo do something else
echo do something other

Bovenstaand voorbeeld resulteert in twee opdrachtfragmenten, de eerste met de twee tags tag1 en tag2.
# Gebruik
# Zoek en voer opdrachtfragmenten uit


qc 

exec



# Search and print command snippets


qc search

# Configuratie
Run qc configure.
[

General

]


  

editor

 

=

 

"vim"

            

# your favorite text editor


  

column

 

=

 

40

               

# column size for list command


  

selectcmd

 

=

 

"fzf"

         

# selector command for edit command (fzf or peco)


  

sortby

 

=

 

""

               

# specify how snippets get sorted (recency (default), -recency, description, -description, command, -command, output, -output)





[

QOwnNotes

]


  

token

 

=

 

"MvTagHXF"

        

# your QOwnNotes API token


  

websocket_port

 

=

 

22222

    

# websocket port in QOwnNotes



# Shell completion
You can generate shell completion code for your shell with qc completion <shell>.
For example for the Fish shell you can use:
qc completion fish 

>

 ~/.config/fish/completions/qc.fish